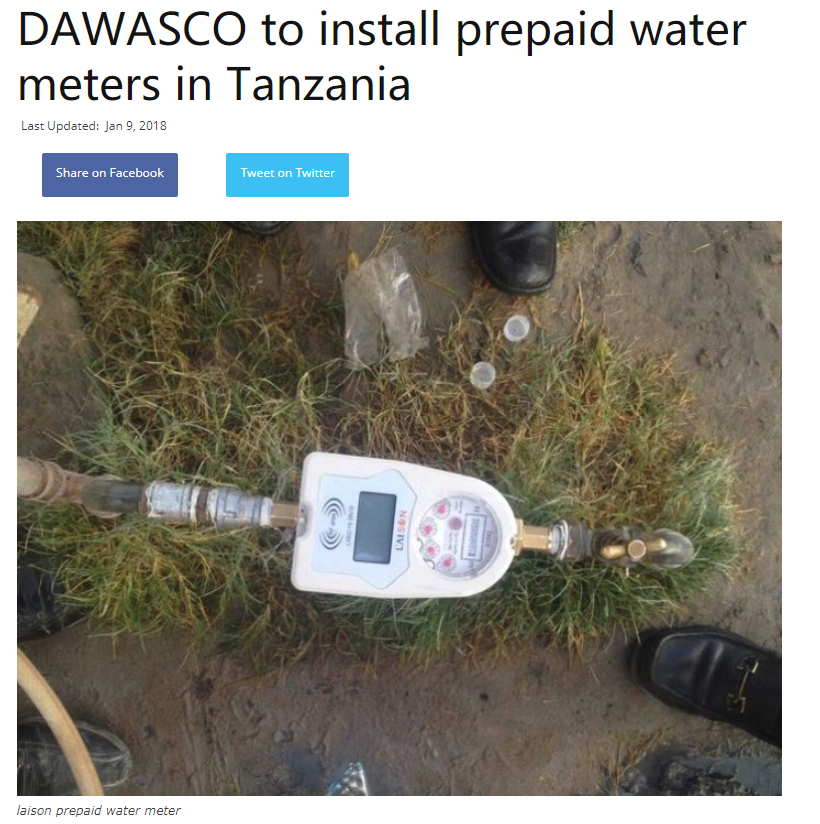 The Dar es Salaam Water and Sewerage Corporation (DAWASCO) is currently planning to install prepaid water meters in Tanzania in order to help the company recover costs and debts as well as control water usage. The company's Director of Customer Operations, Mr Kiula Kingu, noted that public institutions among others of its customers owe over US $8.1m.
As such, public institutions will from this year start paying their bills upfront before accessing water services. The move will also help DAWASCO meet the growing demand from customers and the public at large. Furthermore, losses occurring during transmission would be curbed.
According to Mr. Kingu, the introduction in public institutions is a pilot project. Consequently, the success of the pre-paid meters in public institutions will lead to an extension to other customers. These include industries and Non-Governmental Organizations (NGOs). Overall success of the venture will result in an increase of revenue collection. This in turn will enable customers to settle their monthly bills on time.
Also read: Tanzanian residents now turn to rain water harvesting
Payment defaulters
Mr. Kingu said that majority of customers, including public institutions, did not pay their bills monthly as required which highly affected the water supply. He said that out of 220,000 active customers the corporation has in the city, those who pay their bills monthly were below 100,000. He complained that there was a laxity and overall neglect when it comes to payment.
The situation only got better when President John Magufuli ordered the corporation to disconnect water from all government institutions with outstanding bills that had then amounted to US $18m.

https://constructionreviewonline.com/2018/01/dawasco-install-prepaid-water-meters-tanzania/